Smart concrete, a dream come true ..!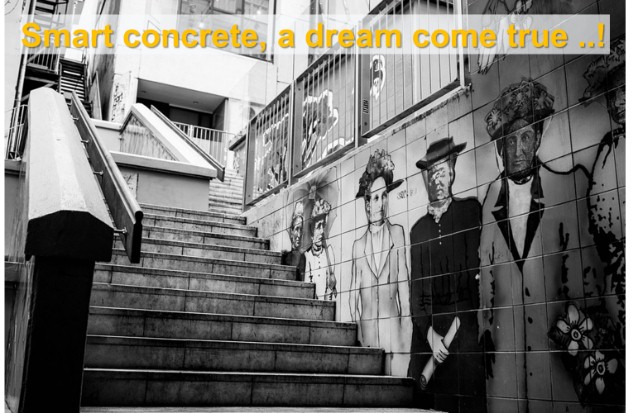 Free use image from Pixabay, edited by @tocho2 using Power Point.
Hello dear friends..!
You know what a builder's nightmare is?
Well, is just the appearance of fissures in concrete and I mean unsightly retraction fissures that affect the appearance of elements built with concrete.
There are a large number of solutions on the market to solve this "detail" when we are pouring concrete into the structural element, such as: electro-welded steel mesh (conventional) to metallic microfibers, polymer microfibers, plastic microfibers and even one of my favorite materials in the case of slab casting is the natural fiber of "jute".
But the use of these materials in concrete works does not mean that once the concrete has set, some retraction fissures do not appear. These fissures are not actually harmful, they only affect aesthetics, finish and appearance.
However, I closely monitor the research carried out on the new smart materials that offer to "eliminate" any possibility of the appearance of fissures, both retraction and fissures due to structural failures, I just need to see a building built by a colleague using these smart materials to convince me totally.

But what material are we talking about?
This type of smart concrete is simply what is now known as "self- repairable concrete," and in the case I was reviewing the researchers used bacteria that were incorporated into the fresh concrete mix. The way to incorporate them was through a "light aggregate" in the form of "expanded clay balls" that were impregnated with bacteria and calcium lactate, which is the food for these bacteria.
Amazing, right?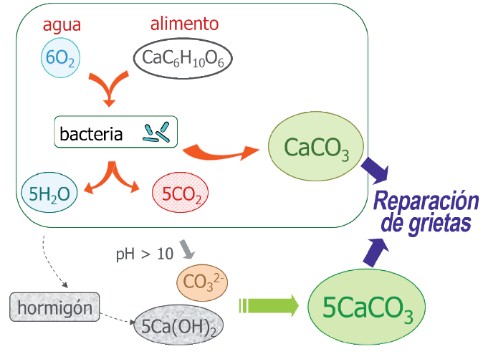 Image Resoruce.
Basically, the work of the bacteria begins when they come into contact with the water of the fresh concrete, they are activated with a lot of appetite and begin to "eat" the calcium (which comes from calcium lactate, their food). Like any living organism after digestion, bacteria "segregates" a cementing substance capable of repairing fissures.
And the substance that these bacteria "segregates" is precisely "Calcium Carbonate", and this substance is capable of "repairing" or filling the small fissures that appear in the concrete due to retraction, and I would not dare to say that this methodology is capable of filling structural fissures because these are of greater dimension and complexity, although I do not doubt that current research will lead to finding this solution as well.

Citing a real case
In 2014, in Tungurahua (Ecuador), this principle was applied in the construction of an irrigation canal with concrete, the traditional concrete mixture was elaborated and the expanded clay particles impregnated with the bacteria and lactate of calcium, was allowed to set as usual and after 3 days the formwork was removed from the structural element, according to the researchers (Delft University of Technology, Imagine Foundation - Holland and the Catholic University of Santiago de Guayaquil), no retraction fissures were observed in the surface of the already hardened concrete 1

Image Resoruce, edited by @tocho2 using Power Point.
And the most amazing thing is that 6 months after the mentioned irrigation channel was in use, there was no evidence of fissures or damage due to deterioration of the concrete.
These advances are really amazing…!
I really hope that enough research is consolidated on this innovation called "smart concrete", I would like to use it in some work in the near future in my country.
Tell me, what did you think of this novelty?



https://www.wikiful.com/@Janie_Schaden/ten-minutes-mail-free-anonymous-temporary-email
Future reading