Senate proposes to cut NASA's moon landing program budget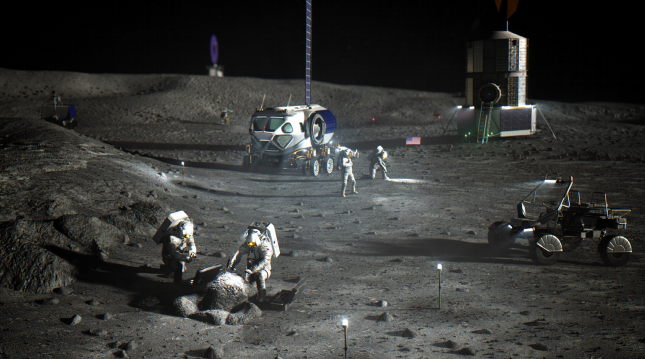 (Image: NASA)
The US Senate Appropriations Committee has published NASA's 2021 budget bill. The agency will receive only a fraction of the requested amount for the implementation of the Artemis program to return people to the moon
However, scientific programs and the development of new automatic devices and telescopes will be fully funded.
The Artemis program was launched by NASA in 2019. The goals of the program are the landing of astronauts on the moon in 2024, the creation of an international orbital lunar station, and a permanent base on the Moon's surface.
Artemis is developing the Space Launch System spacecraft (SLS), orbital modules, spacesuits and moon rovers.
And now, the Senate Appropriations Committee has published 12 bills on spending for the fiscal year 2021.
According to the bill, the agency will receive $ 23.49 billion, which is less than the NASA administration demanded.
The program for the development of a manned lunar lander (Human Landing System) was also cut. NASA requested \(3.2 billion, but the committee allocated only\) 1 billion.
The committee's report notes that the agency's estimated total amount needed to achieve Artemis' goals over the next five years is $ 27.97 billion, with 57% of that amount related to the Human Landing System program.
Despite that the work on this program is important, it seems to be risky, both in terms of financial and time costs.
On the other hand, NASA chief Jim Bridenstine said at a hearing on the agency's budget held on September 23, 2020 that receiving funds in full is extremely important for the astronauts landing on the moon in 2024.
Thus, the likelihood that NASA will postpone the return of people to the moon has increased again.
On a different note, the budget has increased for other scientific programs like:
The continuation of the Hubble space telescope
Approval of the development and creation of the automatic missions DART, Psyche, Dragonfly,
The space telescopes Roman and James Webb
The Mars Sample Return project for the delivery of samples from Mars to Earth.
The agency was also advised to continue working on the PACE and CLARREO Pathfinder spacecraft and not to stop the work of the SOFIA stratospheric observatory.
In addition, the committee agrees with the allocation of funds to support commercial manned and cargo flights to the ISS and to implement the STEM approach in education.
Sources
#news #stem #science #space #nasa
Future reading