Power Point / A versatile technological tool that allows us to make our own images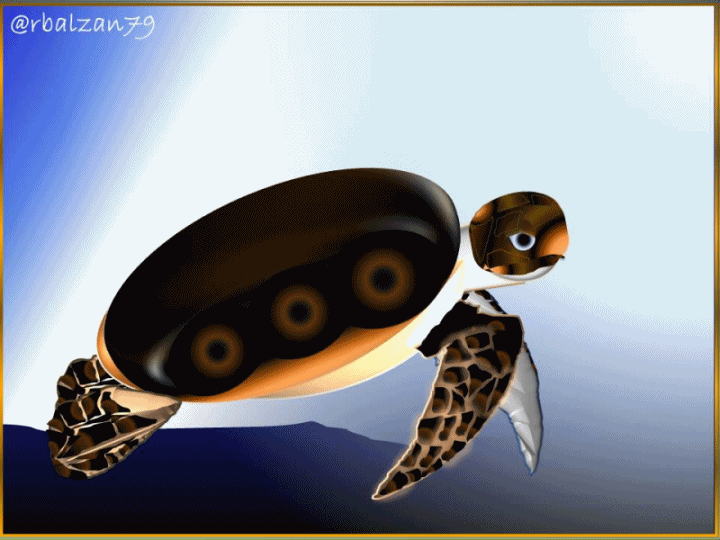 Introduction
Greetings again my dear readers, we continue in the search of different technological applications in any area of our lives, in the previous delivery we could enjoy PhotoScape a very versatile tool in the treatment of any type of image and especially in the realization of gif images.
It is important to emphasize that for the accomplishment of gifs we can implement images that are not of our authorship, nevertheless, in many occasions it is difficult to us to locate images according to the subject that we are treating and is for that reason that it is of vital importance that in certain occasions we can make our own images, to these images we can give characteristics of mobility and this way we can implement them in the accomplishment of an image with movement.
For nobody it is a secret that for the due understanding of any type of topic it is very important to be able to accompany it of images and if the same ones we can carry out them ourselves we would be impregnating to the same one a value added, and that simultaneously it would be our great contribution to certain article, perhaps many of you have been able to observe some of my images gifs and said gifs I carry out them generally with my own images.
However, I manage to make my images through an effective office tool such as Power Point, I think everyone has heard about this program or even more have been able to use it by making certain slides implemented in a presentation of academic, business or simply personal.
Therefore, this type of tool is considered one of the most extensive presentation programs in our activities in the areas described above, those of us who have used it know that they have a large number of options that allow us to go beyond making text slides, we just have to go deeper into its functions and we will notice its great usefulness.
Personally, in addition to making presentations, I have been able to use this tool in the design of my own images through the implementation of the geometric shapes that the program has, as you can see below:
Elaboration of our own image with Power Point
There are many geometric shapes that we can use for the realization of a certain image as you can see below in figure 1: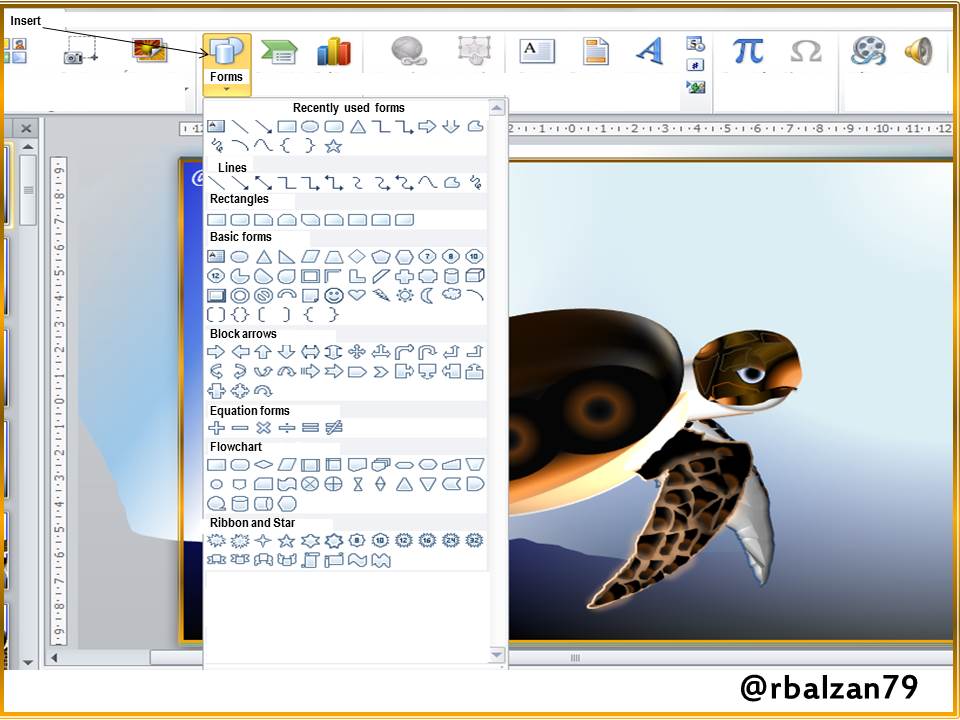 With the previous forms we could conform the following image of a beautiful turtle submerged in the bottom of the sea: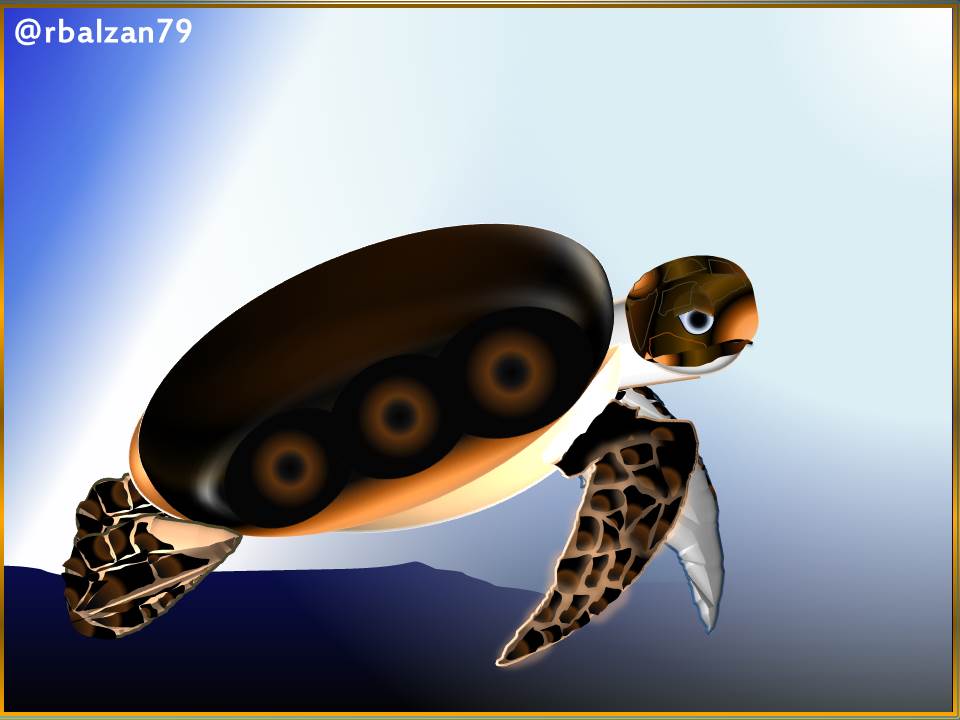 Now you can see the compilation of the geometric shapes that gave rise to that image: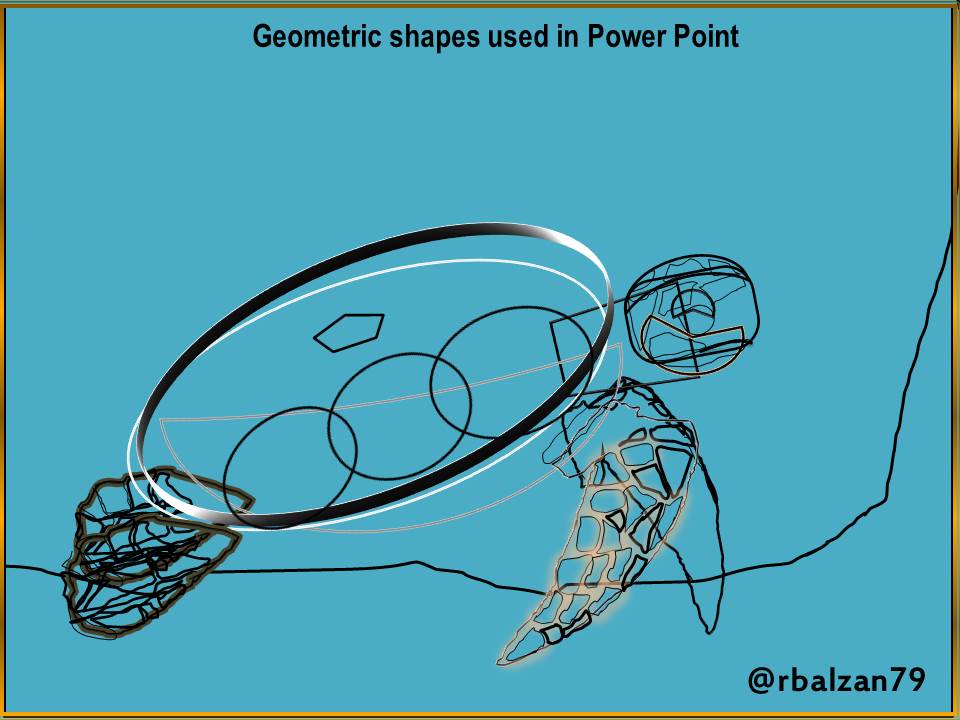 The following is a description of these geometric shapes: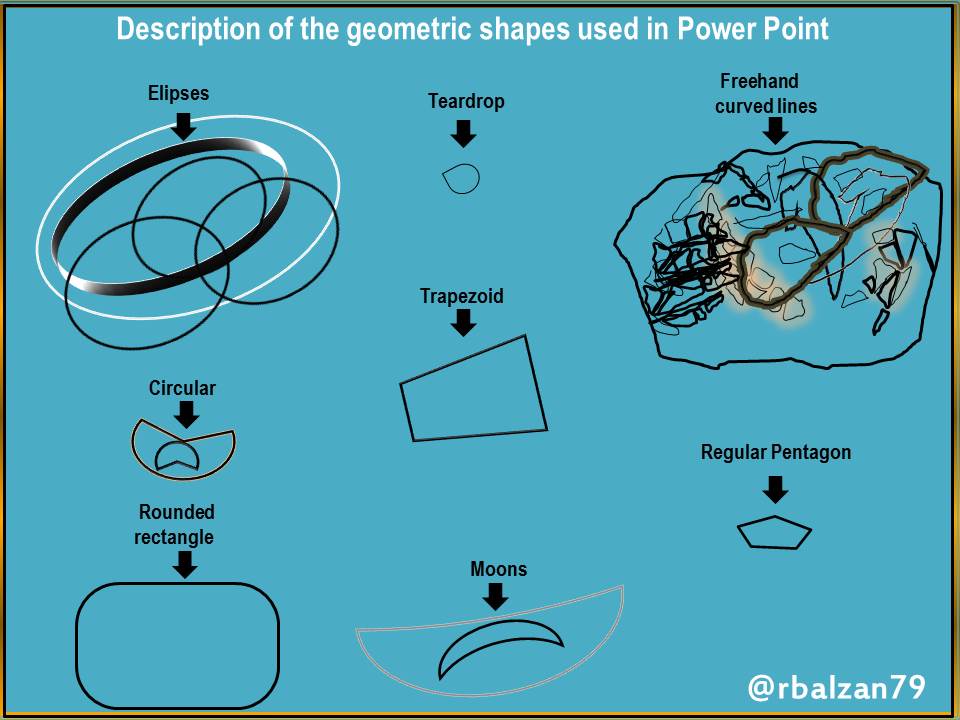 We will know another example of conformation of an own image in Power point, in this occasion represented by two mother and daughter dolphins, firstly we will enjoy the animated gif with our images: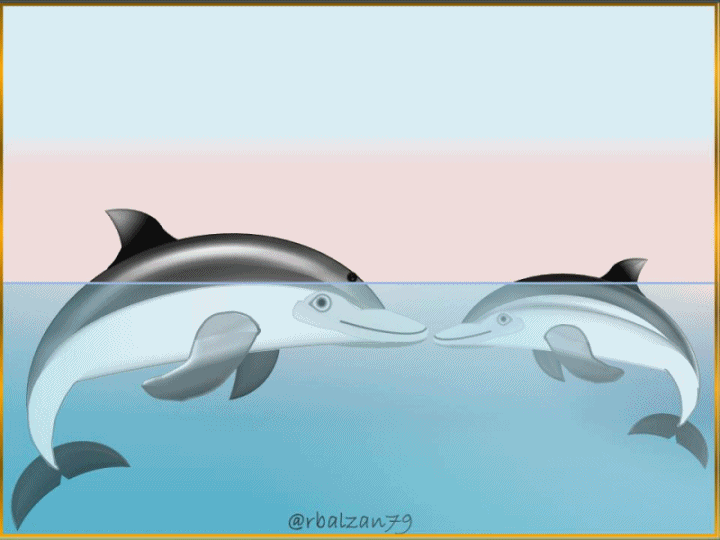 This gif was made with images like the following: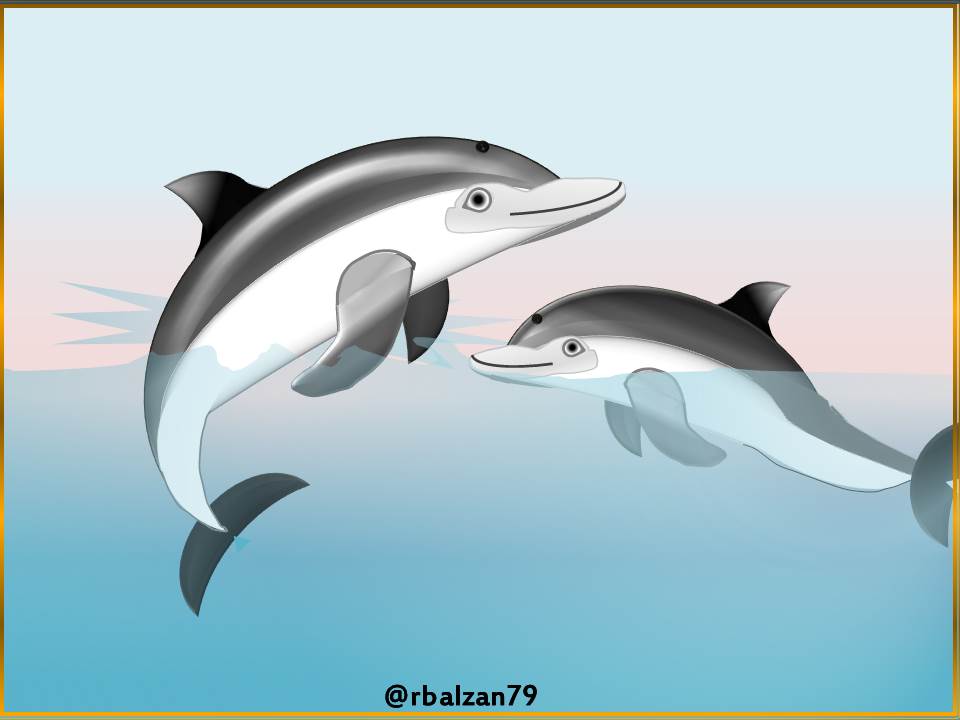 This is one of the images used in our gif, in order to simulate this mobility it was necessary to make 21 images, we bring here a representative example so that you can observe the making of one of these images through the geometric forms found in Power Point.
As in the previous example, it is necessary to observe each of the geometric shapes implemented: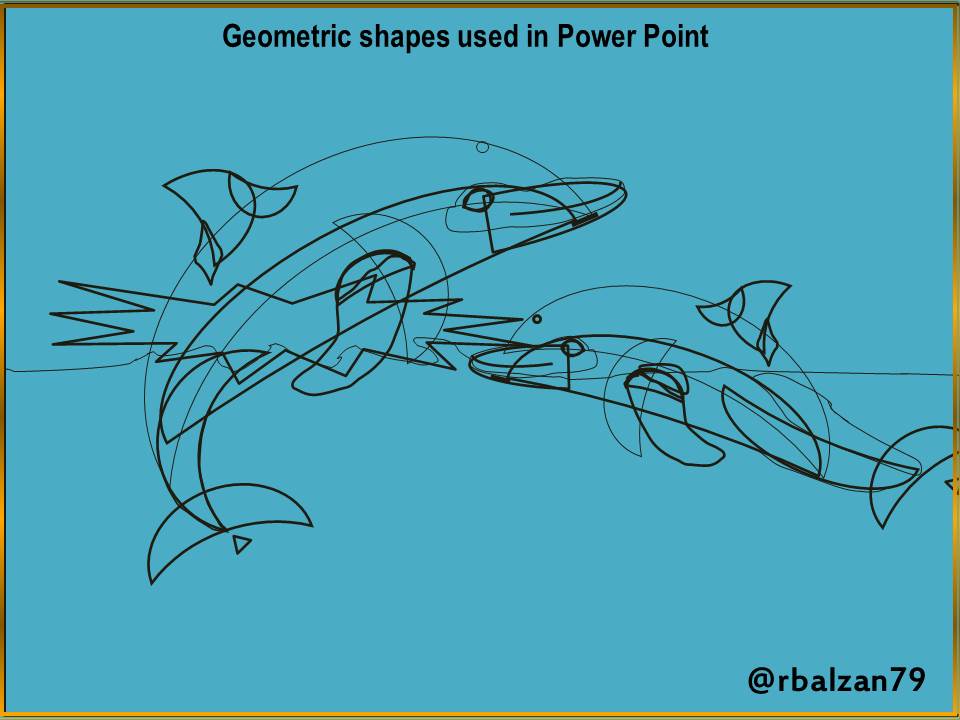 Now the description of them: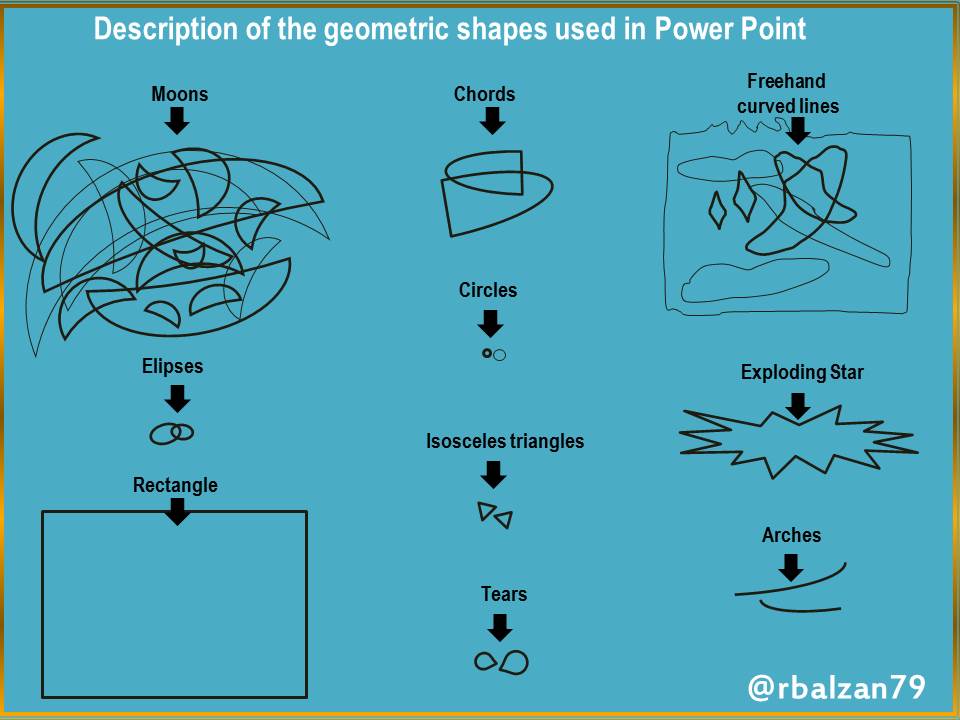 It is important to take into account our creativity, and all the options offered in Power point as types of fills, 3D format, order object (front, back, front and rear), grouping of object, 3D rotation, everything depends on our purpose in creating our images.
Conclusion
With the present article we continue demonstrating that the technological applications can offer us great utilities as the accomplishment so much of our own images and the same ones to use them for the accomplishment of our gifs, and this way to be able to contribute our own character of originality in the images of our articles.
Personally I have been able to enjoy designing my own images through the nexus of these two wonderful technological tools such as PhotoScape and Power Point, this deserves time and dedication is very true, but the experience is unique and very pleasant, so I invite you to make your own images implementing that nexus, because as I express in my gifs tutorials everything our eyes see around us is geometric, and this we can demonstrate with the use of geometric shapes found in Power Poin.
Until another opportunity my dear and appreciated readers.
Note: The images of my authorship, were made using the Power Point application, and the animated gifs were made with the Photoscape application.
Recommended Bibliographic Reference

Future reading