It's A Golden Era For Gold
Introduction
As I write my bullish view on gold, the precious metal is trading at $1,930 an ounce. Even after the big rally in the recent past, I believe that the best is yet to come for gold.
Therefore, at the onset, I believe that gold is an asset class that's worth considering at current levels. Be it physical gold, gold ETFs or gold mining stocks, investors are likely to benefit.
This column will discuss the key factors to be bullish on the precious metal.
Reasons to be Bullish on Gold
The novel coronavirus pandemic has triggered renewed expansionary monetary policies globally. As an example, the Federal Reserve has lowered interest rates to near-zero levels. Further, the Fed expects to keep interest rates near-zero levels through 2023.
With an extended period of expansionary monetary policies, I am bullish on gold. As the supply of fiat money increases, gold will trend higher against all currencies. Therefore, the most important reason to be bullish on gold is policy action by central banks globally.
To elaborate on the aggressiveness of monetary policy action, the Fed reported balance sheet assets of $4.1 trillion as of February 2020. The balance sheet assets have expanded to $7.0 trillion as of October 2020.

With the coronavirus pandemic likely to translate into "U-Shaped" recovery, I expect the aggressive balance sheet expansion to continue. This holds true for the European central bank, Bank of Japan and for the Chinese central banks.
Another reason to be bullish on gold is geo-political tensions. It's worth noting that central banks have been aggressively buying gold in the recent past. The reason is to diversify their currency holding. Central banks purchasing gold is also underscores my view that gold is one of the best currencies.
It provides a hedge against an impending inflation. Billionaire hedge fund manager Stanley Druckenmiller warned in 2020 that inflation can hit 10% in the coming years. Even if inflation is above 5% for a sustained period in the United States, gold is likely to go ballistic.
Further, with the recent trade war coupled with continued tensions in the Middle-East and Asia, gold is likely to remain in favour.
I also want to point out here that data from the World Gold Council suggests that gold has under-performed as compared to U.S. equities and emerging market equities in the last ten years. I would not be surprised if gold out-performs in the coming decade.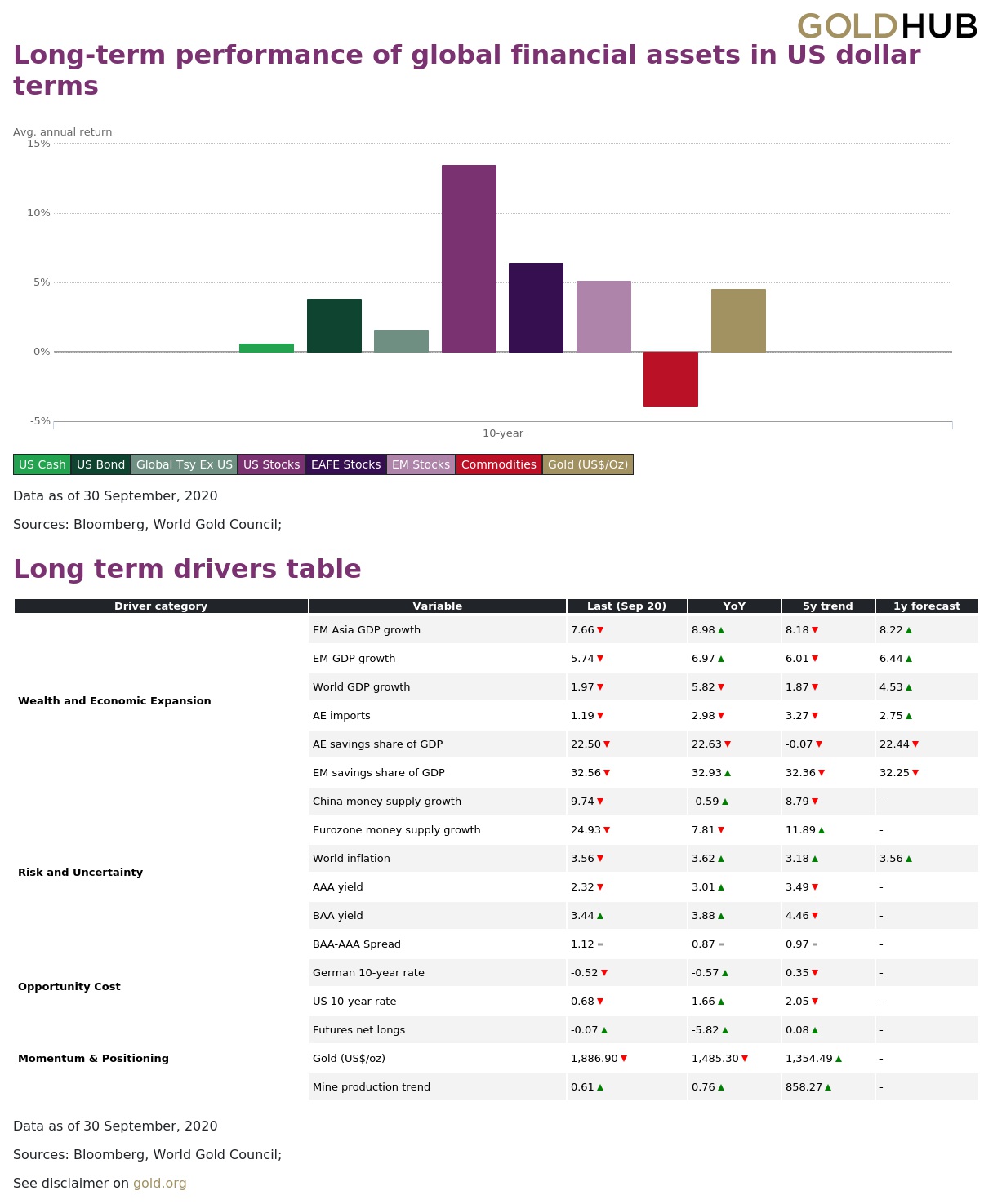 Besides the factors of inflation and currency reserve diversification, gold will also see incremental demand as a jewellery. China and India have a swelling middle-class and this will trigger sustained demand for gold among households.
Concluding Views
Gold surged in the recent past after nearly five years of consolidation. I believe that this rally will take gold higher in the coming years.
From an investment perspective, physical gold is a good investment option. For investors in the United States, gold mining companies that are attractive include Newmont Mining and Kirkland Lake Gold.
Disclosure
I hold physical gold. No exposure to any stock mentioned in the article.
Future reading