Google Doodle Today Show Betawi Artist Benyamin Sueb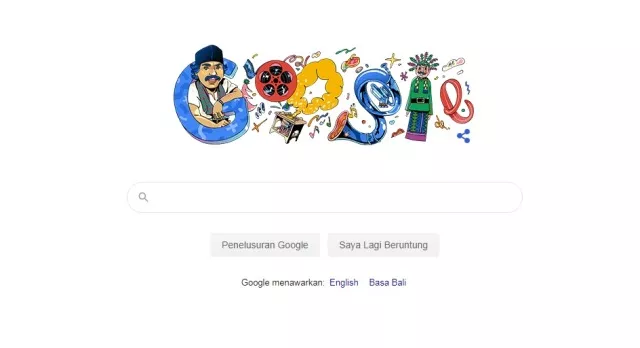 Google Doodle commemorates Benyamin Sueb. (Photo: Google.co.id)
---
Google Doodle today features the figure of the late Benyamin Sueb. This election is a step to commemorate the Betawi artist figure. The Doodle display itself shows the face of Bang Ben - Benyamin Sueb's nickname - along with film roll ribbons, kerosene stove, trumpet, and ondel-ondel. Everything is strung together to become the word Google.
Quoted from Google's official website , Tuesday (22/9/2020), the selection of Google Doodle commemorates Benyamin Sueb because today in 2018, DKI Jakarta inaugurated the Benyamin Sueb Park on Jalan Jatinegara Timur, RT 04 RW 03, Rawa Bunga, Jatinegara, East Jakarta 13410.
This is a cultural center that is dedicated to upholding the Betawi cultural heritage that Benyamin Sueb devoted greatly to during his lifetime.
The Google Doodle illustration commemorating Benyamin Sueb was created by Indonesian original artist Isa Indra Permana. He commemorates Indonesian iconic actor, comedian, singer, songwriter, writer, director and producer Benyamin Sueb for championing Jakarta, Indonesia's Betawi culture, as the star of more than 50 films and composer of more than 300 original songs.
Benyamin Sueb himself was born on March 5, 1939 in Jakarta. He first entered the music scene in the 1950s as a member of "Melody Boys", a band that drew various international influences.
Benyamin Sueb then relied on more traditional Betawi musical idioms to write hit songs, including "Nonton Bioskop" and "Hujan Grimis". He also helped revitalize the gambang Kromong style through beloved songs such as "Ondel-Ondel".
Benjamin Sueb's acting career began in the early 1970's. Through the lens of comedy films that are often joked, he is described as a Betawi cultural observer.
Benyamin Sueb was praised for roles in films such as "Intan Berduri (1972)" and "Si Doel Anak Modern (1976)". Both earned him the Image Cup Best Actor award.
In 1990, Benyamin founded Bens Radio, the only radio station in Indonesia dedicated to Betawi culture, and continues to play Benyamin Sueb's works to this day.
---
Future reading